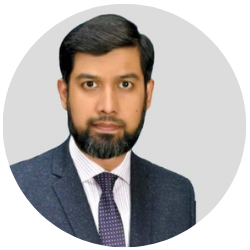 MBBS, FCPS, FRCS (Tr & Orth) UK Orthopedic Surgeon
Associate Professor with over 15 year's of experience . 10 – 20 min wait
Doctors Hospital (JoharTown)
Knee Replacement
Hip Replacement
Intra Articular Injection
Sports Injuries
Myalgia (Muscle Pain)
Frozen Shoulder
Trauma and Fracture Treatment
Musculoskeletal MSK Ultrasound
Osteoarthritis
Foot and ankle deformities
Hip Replacement (کولہے کی تبدیلی)
Back Ache (کمر کا درد)
Arthritis Management (آرتھرائٹس مینیجمنٹ)
Bone Fracture (ہڈی کا ٹوٹنا)
Bone Trauma (ہڈی کی چوٹ)
Knee replacement
(گھٹنے کی تبدیلی)
Knee Pain (گٹھنے میں درد)
Ligament Tear (لیگامینٹ کا چیرنا)
Trauma Pain (چوٹ کا درد)
Sports Injury (کھیل میں لگنے والی چوٹیں)
Dr. Muhammad Bilal is one of the best orthopedic doctor and surgeon in Lahore Pakistan. A very qualified orthopaedic surgeon. Best experience
Best Orthopedic Doctor & Surgeon in Lahore - Dr. Muhammad Bilal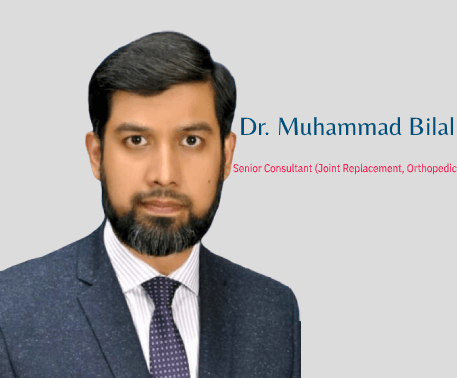 Dr. Muhammad Bilal
Senior Consultant (Joint Replacement, Orthopedic Surgeon
Dr. Muhammad Bilal is the Best Orthopedic Doctor in Lahore. He has FCPS, FRCS England (Trauma and Orthopaedic) and Fellowship in Upper limb/Shoulder Surgery from Buckinghamshire NHS trust UK. Dr. Bilal has been awarded a specialist degree in Both Pakistan and England. He is a specialist in Arthroscopy (Key Hole) surgery.
Dr. Bilal is Associate Professor Orthopedic working at Al-Aleem Medical College /Gulab Devi Educational Complex Lahore with evening clinic at Doctors Hospital (JoharTown) and Farooq Hospital which has Best Orthopedic Doctor in Lahore.
Dr. Bilal has experience of 15 years in Trauma and Orthopaedic and has gained excellence in both Pakistan and England. During his 8 years in the UK, he has worked in the state of art Hospitals of England which makes him the Best Orthopedic Doctor in Lahore.
Dr. Bilal is an expert in Fracture treatment, Joint Replacement, Camera Surgery (Arthroscopy) of all Joints and Sports medicine such as ACL injuries, Shoulder Dislocation, and Rotator Cuff Injuries. He has broad experience in orthopedic surgery to become a Top Orthopedic Surgeon in Lahore.
Dr. Bilal is an active member of several prestigious professional bodies such as Royal College of Surgeons of England (RCS England), College of Physicians and Surgeons Pakistan (CPSP), European Mentoring and Coaching Council (EMCC), Pakistan Orthopedic Association (POA), and Arbeitsgemeinschaft für Osteosynthesefragen Switzerland (AO Trauma).
Why Come to Lahore for Orthopaedic Treatment
Dr. Bilal has recently returned from England with the only purpose in his mind to serve the people of Pakistan. He is the Top Orthopaedic surgeon in Lahore performing Arthroscopy of Shoulder, Arthroscopy of Knee, Arthroscopy of Ankle, Wrist and Elbow Surgeries, Joint Replacement and Fracture Treatment at best affordable prices.
Why Choose Us
We aim to deliver the highest quality of orthopedic care. This means providing an excellent patient experience, putting safety first and delivering clinically successful care.
Medicine is a continuously evolving area and orthopedic is no different. We keep up-to-date with the latest development and surgical advances such as minimally invasive surgery (MIS), Camera operations for Joints (Arthroscopy), use of Biotechnology, Physiotherapy and Rehabilitation experts to enhance recovery and function.
At our clinics, every patient is treated on an individual basis. Getting the right diagnosis is crucial. Our treatment plans are tailored to patient needs and expectations to achieve pain relief and the best outcome. This makes us Top Orthopedic Surgeon in Lahore.
Clinic 1: Doctors Hospital (Johar Town)
152 A - G / 1, Canal Bank, Johar Town, Lahore
Monday to Saturday: 2 pm to 4 pm
Clinic 2: Farooq Hospital (Thokar Niaz Baig)
Main Canal Road, Opposite Metro Cash & Carry Thokar Niaz Baig, Lahore
Monday to Friday: 4:30 pm to 6 pm
Our patients' reviews on Google
42 reviews on